Howdy everybody! This is my very first Top 5 Wednesday post! WOOOOOO! And let me tell you, what a way to start. It was hard enough digging up 5 books that I have read that didn't have romance in them, much less 5 good ones. But, surprisingly, I did it, with an honorable mention.
Top 5 Wednesday is hosted by the Goodreads group of the same name. It was created by the YouTube Booktuber Lainey from Ginger Reads Lainey and is now being reigned by the wonderful Booktuber Samantha from Thoughts on Tomes.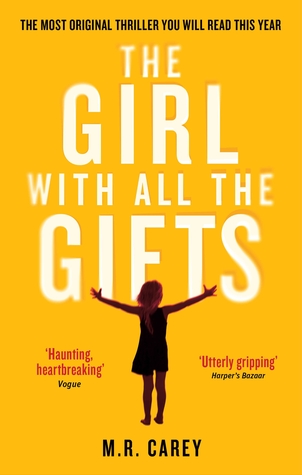 5. The Girl With All the Gifts
The Girl With All the Gifts is a post-apocalyptic dystopian about zombies. Before class each morning, Melanie is taken from her cell and strapped to a wheelchair. She is a special girl, bright and smart, top of the class. She absolutely adores her teacher, Miss Justineau. She knows that the world isn't as it used to be, even though she's never seen the outside world. Soon, she learns the truth about who she really is, and why she is being locked up and made to play school. By then, it may be too late.
I can't say that I absolutely loved this book, but I rated it a 4 out of 5 star on Goodreads. I really thoroughly enjoyed it. I am not usually a fan of zombie books (or movies) filled with gore at every turn. This one lies somewhere in between. Yes, there is some gore and disturbing bits, but it's not over-the-top. For me, it has to have a good underlining story, and this book did it for me. It's no Walking Dead, but it's definitely worth reading.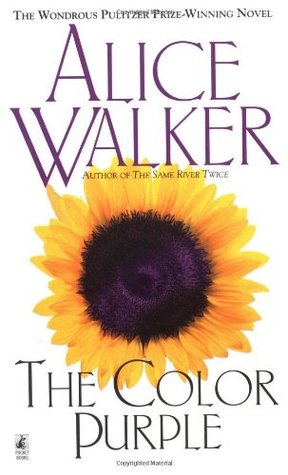 4. The Color Purple
Celie is has not had an easy life. When she was 14, she was abused and raped by her father, only to fall into the hands of her new husband who she calls "Mister".
I honestly cannot remember a whole lot about the book because it has been years since I've read it, but I do remember absolutely adoring it.
3. Of Mice and Men
Lennie and George need each other. Lennie is a mentally challenged man, simple and backward, but strong as an ox. He's gentle, or at least he tries to be. He loves soft things like mice and rabbits. Oh, when Lennie and George get their farm, he will get to tend to the rabbits! Only… Lennie doesn't know his own strength, and can sometimes be found petting a dead mouse. Yes, Lennie needs George. But George needs Lennie. George has a temper and very little patience. All he wants is to have a little piece of land of his own, just like Lennie. Sometimes, George gets in a bit of trouble, but Lennie will always have his back.
This story… I know it's an old book! Many of you have probably already read the book and/or watched the movie. But seriously, if you haven't read it, please do. It is a must-read classic that will carry with you for the rest of your life. It had me chuckling, reeling, and crying.
2. The Book Thief
Liesel Meminger, a foster girl living outside of Munich Germany during WWII. As reading increasingly grows to be Liesel's favorite pastime, the world crumbles around her.
I know I didn't give much of a premise, but the journey in this story is just phenomenal. It is refreshing to see the story behind the eyes of a German girl, instead of the Jewish view (although I do enjoy books like that as well). You really don't hear about the struggles that the German children and the families who were against the concentration camps. It is just absolutely beautiful, and of course, a tear-jerker.
1. One Flew Over the Cuckoo's Nest
What happens when you put a sane person in a mental institution? That is what McMurphy is about to find out…
Yes. That is all I am going to tell you about this book. For one, if you haven't at least watched the masterpiece movie with Jack Nicholson, then go do it. Well, actually, read the book first and THEN go watch the movie. It is one of the most entertaining reads I have ever read. Absolutely brilliant!
Honorable Mention: Between Shades of Gray
Between Shades of Gray is about a Lithuanian girl, Lina. One day, she and her family are taken by the Soviets and pushed into a crowded, disgusting train car to be sent to an undisclosed location. This is her story…
I did not put Between Shades of Gray as an honorable mention because it would be #6 on the list. As a matter of fact, it could easily be #4-5. I just read it a little over 2 weeks ago, so it is very fresh in my mind. I put it as an honorable mention because I already had a WWII book on the list. I didn't want to have 2 on the list, but I didn't want to leave it out either. I don't usually do this, but I would like to add a trigger warning for this book. It is a bit of a spoiler, but let's be honest… when you read it, you just KNOW it's going to happen as soon as they mention it. Don't read if you are super sensitive about death of babies. It is not a super-original story, but I always love a good WWII story! Just a side note, this book does technically have romance, but it isn't a sole focus of the story.
So there ya have it. The top 5 books that I love that doesn't have romance (or very little romance) in it. What are some of your favorite books without romance? Let me know in the comments.