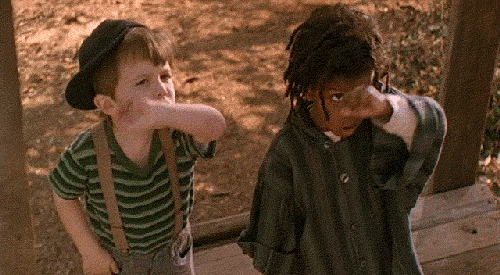 Howdy everybody! This week's Top 5 Wednesday is Children's books, and I'm kind of excited about it! Why? Because I am really getting into reading more kids books lately, that's why. Why? Because I have a 4 year old. Why? Because mommy and daddy love each other. Why? Ummm… ask your mom…
Top 5 Wednesday is hosted by the Goodreads group of the same name. It was created by the YouTube Booktuber Lainey from Ginger Reads Lainey and is now being reigned by the wonderful Booktuber Samantha from Thoughts on Tomes.
I think it is obvious that I love Harry Potter. Percy Jackson is a series I have yet to touch. *gasp* I know, right?! I really need to get on that! But other than the obvious, here are my top 5 favorite kids books
5. Night of the Living Worms by Dave Coverly
When I saw this book in the children's section of the library, I had to bring it home! Who doesn't love a good zombie worm book, right?! Right? Anybody…? Okay anyway, so I brought it home, started reading, and was pleasantly surprised that it was very well written. It is written like a graphic novel, with quite a bit of pictures to accompany the words that my 4 year old usually has problems focusing on. Seriously, child, just listen! But he actually got into this book! I wasn't even disappointed (too much) when I realized that it had nothing to do with zombies worms.
The basic premise is that Speed Bump ("Speedy Bird" to my son) wants the worm. His brother, Early Bird, of course, always gets the worm. But he doesn't want hand outs from his brother, no! He wants to earn it. If only he were faster and less… lazy. After going out one night, something his mother had always warned him against, he discovers that the worms are planning a revolt! Only he can save his brother!
Absolutely adorable.
4. The Many Worlds of Albie Bright by Christopher Edge
This was my reaction on the very first page:
Oh God this is going to make me cry isn't it?! First 2 sentences:
'It was my dad who gave me the idea of using quantum physics to find my mum. She died two weeks ago.'
I am happy to report that it did not, in fact, make me cry. Though there were some bitter-sweet moments.
Albie's parents were both scientists. His father, although loving, never had much time for him. It was his mother who spent extra time with him, encouraging Albie to explore the world around him and come up with his own hypothesis to his questions in life. Unfortunately, Albie's mother is no longer around. After Albie Bright discovers a way to jump into alternate universes, he goes on a quest to find a universe where his mother is still alive. Along the way, he learns not only about Quantum Physics, but discovers himself and the world around him. I adore this book because it is so educational, but is written in a way to where 10-12 year olds can understand it. It is a book I will be passing on to my son when he's old enough to understand it better.
3. Furthermore by Tahereh Mafi
I really can't stress enough how cute this book is. Seriously, it is adorable. In a world where everything is brightly colored, and in fact, thrives off that color, Alice is… colorless. All she ever longed for was to be like everyone else. Three years after her father's disappearance, Oliver comes into her life. He knows where her father is, but he needs her help. Although reluctant to help this pesky boy, Alice agrees to follow him to a place of wonder… and danger. A place called Furthermore.
If you haven't read this book, do it! It is colorful, poetic, cute, and brilliant!
2. The Secret Garden by Frances Hodgson Burnett
Mary, Mary, quite contrary, how does your garden grow?
After Mary's family died from an illness that swept her entire home, she is sent to live in the Yorkshire Moors with an uncle who is rarely around. That is okay with Mary, who is used to being alone. Her parents never paid her much attention growing up, preferring parties over their child. One boring day, she heard crying in the corridor. When she discovers a spoiled but sickly boy, she decides to befriend him. She visits him often, telling him of the secret garden that she found on the lands. He wants to see this garden. And so, he shall…
This was a favorite growing up, and remains a favorite to this day. For the life of me, I can't find my old copy and it makes me crumble every time I think of it. I have read it at least 3-4 times, and audiobook once. It never stops being a wonderful experience for me.
1. The Lion, the Witch, and the Wardrobe (The Chroncicles of Narnia) by C.S. Lewis
You knew it was going to happen. So here you go! I can't get enough of this book, or the movie. As much as I've tried, I could never get into the other movies all that much. Although I did thoroughly enjoy them, I don't find myself wanting to rewatch them. The first movie though… Yes please! The same goes for this masterpiece book. I read The Magician's Nephew and although it was good, it wasn't nearly as obsess-worthy as the first. I definitely plan to read the entire series… eventually.
If you haven't read the book or watched the movie, surely you've heard enough about it to know what it's about, right? If not, what rock have you crawled out of? Kidding! So basically, these 4 siblings (2 brothers & 2 sisters) find a magical wardrobe that leads them to a wondrous place called Narnia. But not everything is all rainbows and butterflies. As a matter of fact, nothing is. For you see, it is constantly winter in Narnia, caused by an evil witch who claims to be the queen. But what will happen when the true king, a lion named Aslan, finally returns?
So there you have it! My top 5 children's books. What are some of your favorites? Let me know in the comments. Thanks everyone, and come back soon!