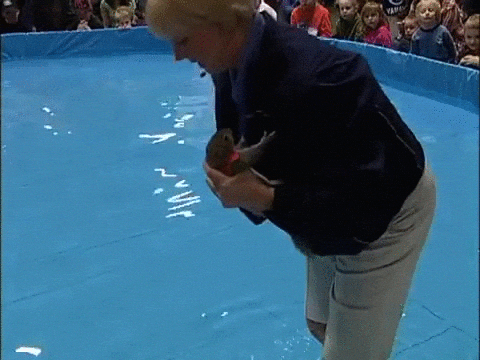 Well you guys know what my favorite part of summer is. That's right. Water skiing squirrels. Who's with me?! Of course those adorable creatures are smarter than people give them credit for, but this tag is about me. And books. It's always about the books…
I got this idea from BookTuber Heather from Bookables. This book tag was created by BookTuber Kaelyn by MissKaelyn.
What book cover makes you think of summer?

Look at all of that green! That is what I think of for spring and summer… greenery. I live in West Virginia, USA, in the heart of the Appalachian mountains. If you have never visited West Virginia, you should. It is gorgeous! The economy is not the best here, but it is a perfect place for outdoor-based vacations and retirement. When we move out of state, I will miss it. It will always be home. So of course, this cover will always remind me of summer and the green that comes with it.
What book has brightened your day?

Alice is a colorless girl living in a  world of color… as a matter of fact, the world thrives on those rich colors. Oh, and she eats flowers. They're her favorite. I absolutely adore this book. Have I said that already? Because I do. This is definitely a book that I plan to buy and pass on to my son. It is quirky, colorful, adorable and cute. The writing style is fun and exciting. It is a quick read, perfect for the beach or even a day on the lake. It does have some creepy factors, but they're very subtle.
Find a book cover with Yellow on it.

Who doesn't love a great bitch mystery while laying out in the sun? Raise your hand if you have watched the series! Yes, it is a bit of a guilty pleasure for me. Damn you A! The books, although very different from the tv series, is amazing. And hey, it's the original so have some respect. 😉 I have read the first few books in the series but decided that it was too confusing to read and watch, so I had to make a tough decision. Still, the book was thoroughly enjoyable!
What is your favorite summer beach read?

This entire series is just so… my heart! My heart! I absolutely love this trilogy. You really can't read only the first book. It gets better with each book and the ending is perfect. I will have to warn you that there is a love triangle, but in my opinion, it is tasteful. It is definitely a great summer read: romance, nephilim, set in the summer during much of the series… Highly recommend!
What action book had you running for the ice cream man?

Wowzers. Steamy, but in a tasteful PG13 way. Jacqueline followed her longtime boyfriend to college, and soon after finds herself single. Deciding to embrace it, she decides to attend a party. On her way out, she is nearly raped by her ex's frat brother, when a stranger swoops in to save her. And beats the shit out of him. *cheers* Lucas is a perfect mix of good and bad boy, meaning mostly good but looks like a bad boy, dark hair, tattoos and all that sexy hard body. Yep, he's the bad we we all want to know. I just wanted to jump in and steal him away. ICE CREAM!!! I need to cool off… Whew!
(Sunburn) What book has left you with a bad and/or painful ending?
This is a story about love and loss. You know what's going to happen from the very beginning, but it doesn't make it hurt any less. Why do I do this to myself? And of course I had to watch the movie as well. My heart still breaks…
(Sunset) What book gave you the happiest feelings when it ended?

Oh delicious oreos… This book is about high school, being gay, and coming out. Simon is online friends with a boy he has never met, a boy who shares his sexual identity. They flirt, they share details of their lives, but Simon is always cautious not to give too much away. After all, they go to the same school. So this book is a bit of a mystery. Who is "Blue"? This is so sweet, cute, and a quick read. Like Furthermore, it can be read in 1-2 days easily and is great for a beach or lake read.
What book cover reminds you of a sunset?

I had no idea that I hadn't read very many pretty, colorful books. Most of my books have been dark, seeing as my favorite genre is ya fantasy. I need to change that. I plan to read more contemporary books in the coming months. I need to diversify! But this is the best I could do. I didn't really read the book with this cover, but the traditional all red cover. But I really like this one. So pretty! Love the pink.
What is one book or series you hope to read this summer?

Just one? Nope. Ain't gonna happen. I have to tell you about… let's see… 6. Yep that's a good number.
Eliza and Her Monsters & When Dimple Met Rishi are in my library stack on the dresser-chest in my bedroom, ready for me to dive in. The others I plan to listen to the audiobooks on Overdrive. As I said, I'm trying to diversify and I really hope that I like them.
Edit: OMG I completely forgot! How could I possibly forget that I am also going to read To All the Boys I've Loved Before! Not sure how I overlooked it on my TBR for this year. But yeah… this is long overdue…
What are some of your favorite summer reads? Do you have any feel-good contemporary books to recommend? Let me know in the comments!
If you would like to tag yourself, please feel free. I would like to tag: