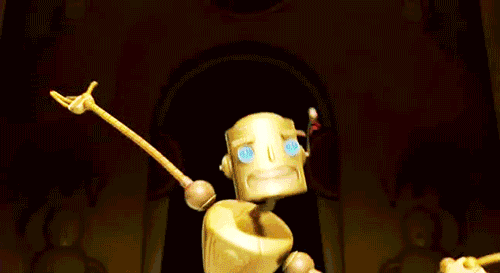 Today's Top 5 Wednesday is "series that get better", and y'all know how I love series. This one should be easy, peasy, lemon squeezy, right? Well I hope so because as I am typing this I only have 1 in mind. #GetPreparedDumbass I completely forgot Wednesday was coming until it was here. You know, it comes EVERY WEEK and yet somehow I forget until the last minute. I would take time management classes, but I would probably forget to go. So I'll stop yapping and get to it…
Top 5 Wednesday is hosted by the Goodreads group of the same name. It was created by the YouTube Booktuber Lainey from Ginger Reads Lainey and is now being reigned by the wonderful Booktuber Samantha from Thoughts on Tomes.

This week, I'm putting these in no particular order.
Miss Peregrine's Home for Peculiar Children series by Ransom Riggs
Miss Peregrine's Home for Peculiar Children has a special place in my heart. If you have watched the movie but didn't read the books, you should know that it did not do it justice. I know, the books are always better, but when it comes to the Peregrine series, compared to the books, it was a joke. I loved the actors and the beginning, but as time went on the cheaper it came off. This series deserves better. I almost didn't finish the first book. I was listening to the audiobook and thought it was going to go all dark-ghost on me. When I realized that it was a time-travel book, I abandoned it. I didn't even give it a fair chance! The thing is… when it comes to time travel I usually get really irritated with the logistics of it. But then, after hearing the hype, I gave it another go. I'm so glad I did! The first one is good, probably a 4.5 star. Then the second is a 5 star, easily. The third… 5 shining golden stars!
The Infernal Devices series by Cassandra Clare
Oh Cassandra… why do you break my heart so? The first book is pretty much an introduction to the characters. I liked them okay, but I missed Clary and Jace. I just couldn't connect with Tessa & Will. I liked Jem. The story seemed like it was lacking. I originally gave it a 3.5 stars, rounded down to 3 stars, but after reading the rest of the series, rounded it up to 4. The second book got better. I really got to know the characters better. The love triangle was tasteful and tore at my heart. Still it was only a 4 star. This time, it wasn't a generous 4 star, but well deserved. The third book… Oh my! How I loved Clockwork Princess! This series is worth pushing through, just to read Clockwork Princess. Jem stole my heart completely, I grew to actually love Tessa, I even loved Will! So as you can tell, I talked about the characters, particularly 3 characters, the entire time. That is because I can't honestly tell you much of what happened, other than their relationships. So yeah… this is definitely a book of character-love and less about the Shadowhunter World (in my opinion).
Goddess Test series by Aimee Carter
Okay, this one is a bit… different. It didn't start off low and work it's way up. It dipped in the middle. I'm still going to add it because I think it's worth mentioning. I thoroughly enjoyed the first book. I gave it a 4.5 star, rounded up. Sometimes I think maybe it should have been rounded down, but it was such a unique and fun read that I can't bring myself to do it. The second book… it broke my heart and not in the way you may think. I was so disappointed! How could such a wonderful series crash like this? I gave it a generous 3 stars. It took me forever to read the third book. But I only had 1 more of the series, not including novellas, and I owned it. It was a short book too, like the rest, so I just went with it. What a wonderful ending to this series! It made the disappointment of the second book so worth it! It's like Aimee Carter was just in a slump when she wrote the second book. Or maybe I was too generous with the 1st because I read it so long ago…? Or maybe it was just me and the way I was feeling when I read it. I don't know! But The end was just amazing.
P.S. I'm definitely an unpopular opinion on this because here are the ratings on Goodreads:
The Goddess Test (Goddess Test, #1) – 3.83 stars
Goddess Interrupted (Goddess Test, #2) – 4.02 stars
The Goddess Inheritance (Goddess Test, #3) – 3.98 stars
So maybe it was just me! If you want a quick read, I would recommend this series.
Sookie Stackhouse series by Charlaine Harris
With the Sookie Stackhouse series, it was very gradual. I am also an unpopular opinion on this one. seeing as the ratings went really down as the series went on. I haven't read the entire series, but come on! There are 13 of them! I did read the first 9 though. I should probably get around to finishing that series. But anyway! I rated every single one a 5 star. Part of this could be because I read it before I was a critical reader, or maybe it's just because I am obsessed with the series, and watched all of the very steamy (albeit very corny) series. But.. ERIC! He is my #1 book boyfriend, and I have yet to find anyone to compare. I know, he's such an ass, but in book 4, Dead to the World, you really get to see his kind, sweet side. Through the rest of the series, you still see it here and there. Anyway! With this series, it's less about going from bad to better and more like going for good, to better, to better, to… you get it. I just got so invested!
His Fair Assassin series by Robin Lafevers
This one is so emotional for me. Yes, even more than the rest of the series on this list. His Fair Assassin is one of my favorite series of all time, mainly because of the third book, Mortal Heart. I talked about my book boyfriend. Well Annith is my book girlfriend. She is the most amazing heroine I have ever read! Well, aside from Hermione of course. Each book is about a different character, but they all know each other so the stories are intertwined. Grave Mercy, the first book, is about Ismae, a girl who is immune to poisons. After some bad luck (to put it lightly) she is sent to the convent of St. Mortain to serve the god of death. These nuns aren't your normal type. They are assassins. Badass, right? So Ismae's story… I loved Ismae herself. She is a wonderful character. It's just that the story was lacking a bit. 3.5 stars, rounded up to 4 stars. Dark Triumph, the second book, is about Sybella. I personally didn't like Sybella as much as Ismae, but she is still great. Basically, her father is a very powerful and cruel man, and the convent sends her home to destroy him. That's all I can say without ruining anything. Her story was a 4.5, rounded up to 5 stars. Unlike the first book, where the character brought up the stars, this time it was because of the story itself. Just phenomenal world building and plotting! Bravo! Then we have Annith's story. She is the best at the convent, and yet the nuns refuse to send her to do Mortain's work. Instead, they decide to keep her as a Seeress. It's supposed to be an honor, but she sees it as an insult and waste of a good talent. So she runs away, and learns more about Mortain than she ever imagined she would… *fangirling* OMG I love, love, LOVE this book. If I ever decide to reread this series, I will probably start with this book, read the first two, then reread this one again just because I CAN.
So there is my rambling mess. Hope you liked it! Please take a moment to share, like, all that jazz. What are some series you think were better as they went on? Let me know in the comments. Later mater.
Don't forget to follow me on Goodreads!