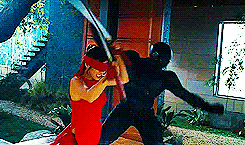 I would like to quickly apologize for the lack of a post over the past few weeks, especially the Tag Tuesday post. I haven't been feeling well and it's been difficult for me to find the energy to do the things I need to do between dragging myself from point A to point B without falling asleep… But hey! I'm here now! 🙂
This week's Top 5 Wednesday is "Books to Read without the Synopsis". There are some books that are just better if you don't have any warning to what is going to happen. These are my top 5.
Top 5 Wednesday is hosted by the Goodreads group of the same name. It was created by the YouTube Booktuber Lainey from Ginger Reads Lainey and is now being reigned by the wonderful Booktuber Samantha from Thoughts on Tomes.
 goodreads.com/saltinmylatte